Single Family
Check out the map below to see if you have Four Lakes Broadband coverage in your area.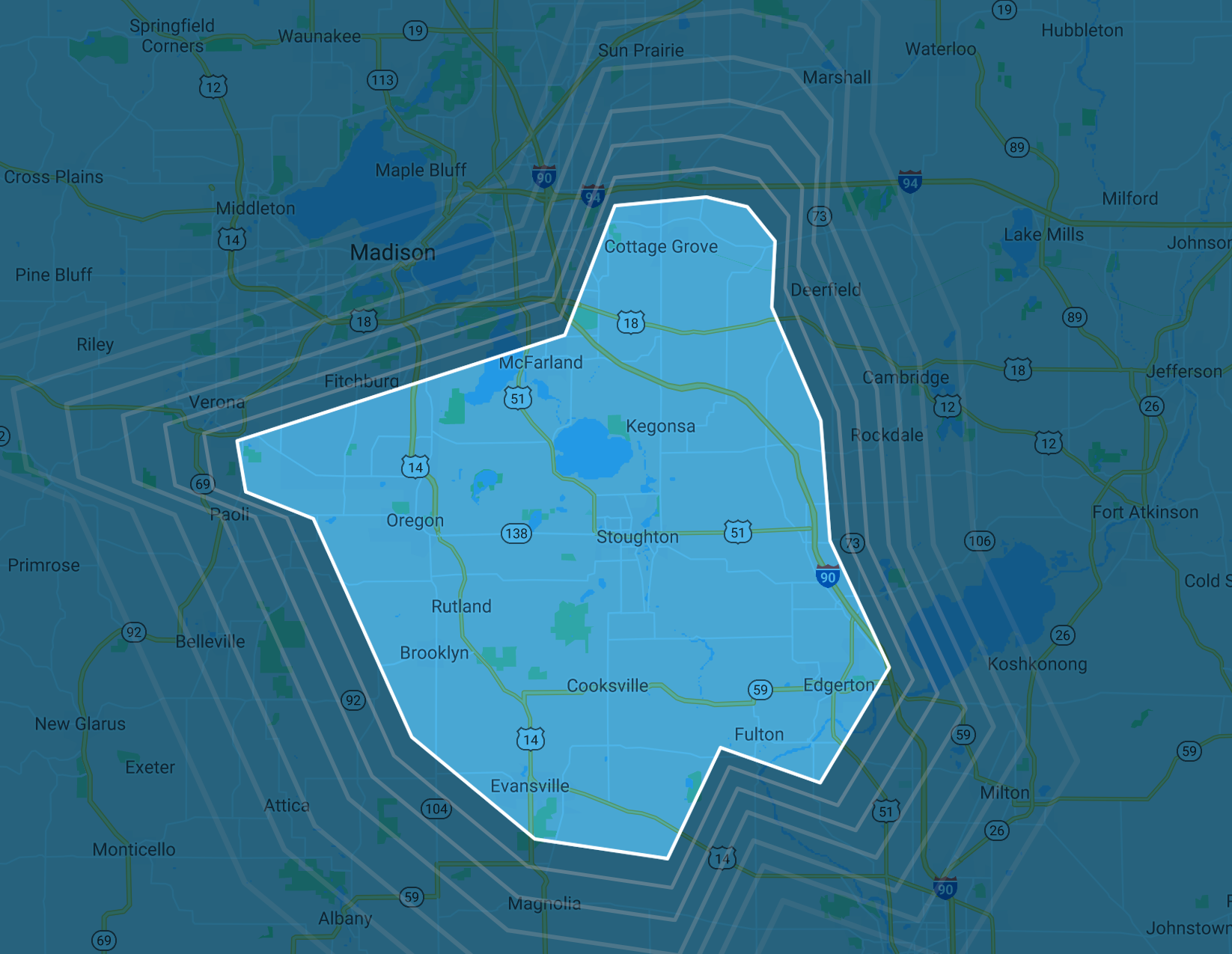 BRINGING HIGH-SPEED INTERNET TO YOU, WHEREVER YOU ARE
Are you frustrated by the internet speed and connectivity in your home? Have you been told by big box providers that they can't service your rural area?
Enter Four Lakes Broadband.
We understand your frustrations and we're here to help. These days, having reliable, high-speed internet has become almost a necessity, as so much of our lives rely on the internet. Our goal is to empower our customers — including those in underserved, rural areas — with high-speed internet that makes their lives easier and more enriching.
Your days of worrying about data caps, overages, and slow speeds are over. We've got you covered.

Contact us for information regarding our single family plans. We'll be able to recommend a plan based on your family's internet habits.
All packages have a $99.95 installation fee, which covers a portion of our costs for the radio itself and the cabling and materials necessary to install it inside your home. We'll assist in hooking up your router as well.
TESTIMONIALS
"We weren't able to get more than 1mb download speed with our previous provider because of the rural area we were in. Four Lakes Broadband solved that problem for us and now we have high-speed internet far beyond what we thought was possible! The service has been phenomenal and we are so grateful to Four Lakes for bringing us into the 21st century!"
Nick Ring, Customer
INSTALLATION OVERVIEW
Get in touch
to schedule a complimentary, no-obligation consultation at your home or business (we can usually accommodate these within one week).
At your home or business, we'll conduct a free speed test to make sure you'll get the best service possible. If you'd like to proceed with our services, we can conduct the install same-day.
We'll need access to your roof and basement, and in 90 minutes or less, we'll be done. Voilà! You have high-speed internet.
FAQs
What if you come to my house for a consultation and can't get service?
Our mapping software allows us to determine if you'll be able to get service while you're still on the phone with us. We won't schedule a consultation if our software shows that we can't service your home or business. We're very considerate of potential customers' time!
How long will the installation take?
While every situation is different, installation typically takes from 60-90 minutes. This includes mounting the receiver and feeding the wire to your basement (or wherever you keep your router).
Do I need to purchase a special modem or router?
In most scenarios, you will not need to purchase a special modem or router. You can use your existing router!  If you don't already have a router, any wireless router will work.
Will you slow my internet speeds after I hit a certain bandwidth?
We get this question often… and the answer is NO! We'll never slow your internet speed or "limit" your access after you've consumed a certain amount of bandwidth.
How do I know which plan is right for me?
Contact us for plan recommendations. Our smaller plans are perfect for an individual looking to browse the internet, check email, and stream one video at a time. Our larger plans are better suited to families looking to do things like stream multiple videos at a time.
What if I want to change my plan?
No problem! Give us a call or fill out our contact form to request a change. We can switch your plan within 24 hours.